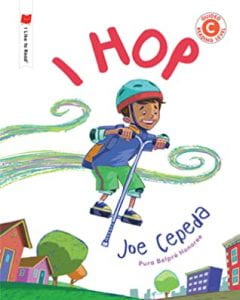 Cepeda, Joe. I Hop. Holiday House, 2021. 978-0-823-44825-8. 32 p. $15.99. Grades K-1.
An easy reader that guides the character all through town on his pogo stick. The main character hops through town gathering supplies and ends with a picnic with his grandmother. There are lots of repetitive, short sentences and clear pictures to provide clues to new readers. The book is level C, for middle of kindergarten students. A website is listed for additional resources to use in conjunction with the book such as flashcards and other activities. 
THOUGHTS: This book is sure to instill confidence in new readers! If you're looking for more leveled books to add to your elementary collection, this is an easy pick!
Picture Book         Samantha Hull, Ephrata Area SD