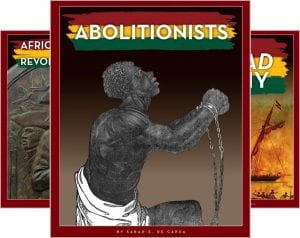 The Black American Journey. The Child's World, 2021. $22.00 ea. $528.00 set of 24 (2021-2022 titles). 32 p. Grades 4-7.
Somervill, Barbara A. The Amistad Mutiny. 978-1-503-85370-6.
Shaffer, Jody Jensen. Barack Obama: First African American President. 978-1-503-85377-5.
Maupin, Melissa. Benjamin Banneker: Astronomer and Mathematician. 978-1-503-85378-2.
Venable, Rose. The Civil Rights Movement. 978-1-503-85369-0.
Carey, Charles W. The Emancipation Proclamation. 978-1-503-85368-3.
Dolbear, Emily J. Juneteenth. 9781503853799.
Madam C. J. Walker: Entrepreneur. 9781503853768.
Jones, Amy Robin. Mary McLeod Bethune: Pioneering Educator. 9781503853751.
Neshama, Rivvy. Nat Turner and the Virginia Slave Revolt. 9781503853720.
Meadows, James. Slavery. 9781503853744.
Laughlin, Kara L. The Tulsa Race Massacre. 9781503853713.
Williams, Carla. The Tuskegee Airmen. 9781503853737.
This reviewer read The Tuskegee Airmen from the The Black American Journey series. This series offers approachable information in a visually-appealing format relating to Black culture and the history of slavery, discrimination, and the Civil Rights Movement throughout American history. Each book in the series includes clearly-labeled sections, attractive sidebars and captions, bolded vocabulary words that are also found in the included glossary, and a variety of interesting historical photographs to accompany the text. "Think about it" questions, a timeline, and an index round out the back matter for each book. 
THOUGHTS: These titles would make great additions to collections where students will benefit from engaging text introductions to the topics in this series. Fans of military history would also enjoy this quick read about a fascinating chapter in the evolution of fighter pilot training, racial integration, and the Air Force. (Title Reviewed: The Tuskegee Airmen.)
940.54 Military History of World War II            Erin Faulkner, Cumberland Valley SD