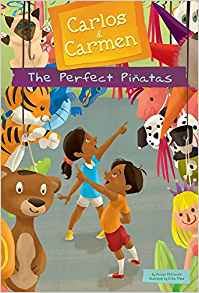 McDonald, Kirsten. The Perfect Piñatas. Magic Wagon, a division of ABDO, 2017. 978-1-62402-183-1. Unpaged. $19.99. Gr. 1-3.
This is part of the early reader series Carlos & Carmen in which there are over 10 books. Carlos and Carmen are twins getting ready for their birthday. Shopping with their Abuelita for piñatas is fun, but they have to find the perfect ones. After several stores of amusing, but ultimately unsatisfactory paper mache objects, the children find their ideal piñatas. Yet this presents another problem as they soon discover, they want to keep and play with their new toys! They cannot imagine smashing them to get at the candy and toys inside. Luckily, their Abuelita has a wonderful solution. THOUGHTS: A great read-aloud multicultural book to add to the collection, but the sprinkling of Spanish words is difficult for early readers.
Fiction Early Reader   Emily Woodward, The Baldwin School
This book is discouraging. At first I was so excited for find a series with Latinos for early readers, until I read the book. They have Spanish words throughout the text with absolutely no indication that they are another language. This is difficult for non-bilingual children who are just learning to read. There IS a Glossary, but it is in the back, and no way to tell what words will be in it while reading. I am going to put it in my collection, but am tempted to write a disclaimer in the beginning about the Spanish words and highlight them in the text so it will be easier for the students to decypher.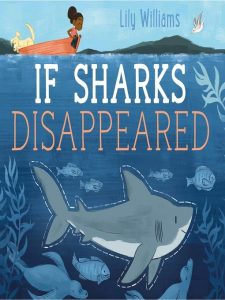 Williams, Lily. If Sharks Disappeared.  Roaring Brook Press, 2017.  9781626724136.  Unpaged. $17.99. Gr. K-3.
In this text, the author presents the reader with an interesting look at food chain dynamics in the ocean, while keeping it accessible for younger students.  The opening two pages will grab their attention, as Williams begins with an explanation of the ocean environment with its many sea creatures.  This includes a scary shark, which appears to be coming right out of the page toward the reader with open mouth and sharp teeth! The author explains terms like "apex predator" and shows a timeline of the evolution of the shark.   An interesting illustration shows the role of various marine animals in the food chain and who eats whom.  Williams's illustrations have a touch of whimsy and the images will not frighten children.  The author discusses the effect of the loss of ocean predators and how it would change the composition of the ocean and eventually affect humans and land animals.    There is a glossary, bibliography and list of websites.  The author also includes information about how sharks can be protected.  THOUGHTS: There is a lot of information in this text and it is presented in a simple, but clear way. Readers will gain a good understanding of the importance of food chains and the effects on other living creatures if a link in the chain is broken. This book will work well in science units, but many children will enjoy reading it on their own. This one is a first purchase for elementary collections.
Science Nonfiction      Denise Medwick, West Allegheny SD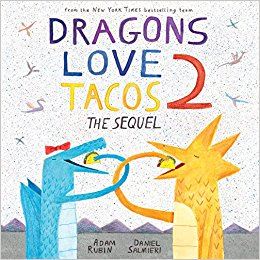 Rubin, Adam and Daniel Salmieri. Dragons Love Tacos 2: The Sequel. Dial Books, 2017. 978-0-525-42888-6. $18.99. Unpaged. Gr. K-3
They're back! Those taco-loving dragons from the 2015 PAYRC award-winning book by Adam Rubin and Daniel Salmieri have their very own sequel. This time around, the world is facing a taco crisis: No More Tacos! The intrepid young hero decides to solve the problem by going back in time, to the infamous taco party (before the dragons eat the spicy salsa, of course), and grabbing some tacos, with which he can plant taco trees. Lots of mayhem and silliness ensue before the successful completion of the mission. While you might not have thought the original book needed a sequel, those students who know the first book will rejoice at another romp with the dragons.  For younger students, it provides a wonderful reason to expose them to the delightful works of Rubin and Salmieri (read Secret Pizza Party as well). THOUGHTS: The final double-spread illustration is worth purchasing the book, even if you do not think the sequel stands up to the original. Your students will love it.
Picture Book     Nancy Nadig, Penn Manor SD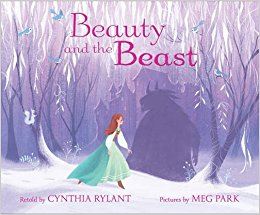 Rylant, Cynthia. Beauty and the Beast. Disney Hyperion, 2017.  978-142311981-4. 40pp. $16.99. Gr. K-3.
This rich retelling of the classic story focuses on the themes of loneliness and love. It begins by introducing a father and his three daughters. The family was once well-off, but after a failed business venture, they now live modestly. The two older daughters resent this misfortune, but the youngest, Beauty, accepts the new life without complaint. When their father receives news about his former business, he rides off to port, but he becomes lost in the forest during a blizzard. His horse leads him to a stony castle where he dines and takes shelter. The next day, when leaving the castle, he spies a single rose blooming in the garden, and he cuts it. Immediately, a terrible Beast is upon him. The Beast seizes the father as a servant, but he ultimately agrees to exchange him for one of his daughters. Beauty refuses to lose her father and insists on taking his place. She is prepared for the Beast's terribleness, but he treats her kindly, giving her beautiful gowns, delicious food, and never making her do any serving work. Together, they walk the gardens and read sonnets, but when the Beast asks Beauty to marry him, she turns him down, explaining that she doesn't love him. When Beauty's father falls ill, the Beast allows her to go care for him, believing he'll never see her again. In her absence, he begins dying of a broken heart, but Beauty returns to him just in time to say, "I love you." Her love breaks the spell, and the Beast is transformed back into a handsome prince. The muted, pastel tones of this book's full-bleed illustrations perfectly complement the tenderness and love Rylant uses to reimagine this timeless story.  THOUGHTS:  This book will be useful for sparking discussions about the differences between the book and the movies. It is a perfect addition to fairy tale collections, and it should prove popular with both teachers and students alike.
Picture Book     Anne Bozievich, Southern York County SD