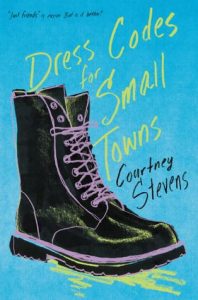 Stevens, Courtney. Dress Codes for Small Towns. Harper Collins. 9780062398512. $17.99 Gr. 8 and up.
Billie McCaffrey, the tomboyish preacher's daughter and her five friends are in their senior year trying to make the most of their last year as kids, knowing that their world will be changing soon. When they accidently set the church building on fire, they must all make amends to their small town community of Otters Holt in Western Kentucky. All the while the annual Harvest Festival with its Corn Dolly competition, the town's claim to fame, is in danger of ending this year. "The Hexagon", the nickname for the friends, is determined to regain their standing in the community and save the small town's tradition. Filled with humour, teenage pranks and creativity, the heart of this book is the acceptance and love between the six friends, some of whom are questioning their own selves, sexualitites and ambitions. The friends offer each other unwavering support  as they explore their own identities and their place in the world. The small town itself comes to terms with the changing realities of our world as faith and goodwill and church and expectations are sometimes at odds. THOUGHTS:  Overall, a positive tale of friendship, love and romance and all the nuances between them.
Realistic Fiction         Nancy Summers, Abington School District
McLaughlin, Lauren. The Free. Soho Teen, 2017. 978-1616957315. 288 p. $18.99. Gr. 9 and up.
Lauren McLaughlin's novel will engage teen readers from the beginning to the end. Teenager Isaac West has ended up in Haverland Juvenile Detention Center after a carjacking gone wrong. He took the fall for his accomplice (an act lauded by his automotive teacher, who is the ringleader of the car-thieving business) and received 30 days in the detention center. Isaac's goal is to survive his sentence as quietly as he can. His middle-school aged sister, Janelle, depends on him for help and guidance, since their alcoholic mother can provide neither. While at the center, Isaac joins the computer class to be able to communicate regularly with Janelle via email. He also attends regular group therapy, an environment which encourages participants to relive and understand their crimes. Isaac is an interesting and relatively reliable narrator, and the cast of characters in his group therapy unit are carefully drawn, allowing the reader to empathize with them and hope for future redemption for all. As Isaac's story and past come to light, the reader will be rooting for him to achieve freedom. THOUGHTS: An engaging and quick, yet complex, read for students who enjoy realistic fiction.
Realistic Fiction    Lindsey Myers, Shady Side Academy Senior School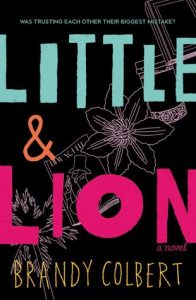 Colbert, Brandy. Little and Lion. Little, Brown Books for Young Readers, 2017. 978-0316349000. 336 p. $17.99. Gr. 9 and up.
Brandy Colbert's novel is a powerful tale of love: the love between siblings, the love of parents for their children, and the love teens experience, including the difficulty of navigating love and lust for the first time. After it was discovered that her stepbrother, Lionel, has a mental illness, Suzette's parents sent her to boarding school to allow for more normalcy in her life. When she returns to Los Angeles for the summer, she left a complex relationship with her roommate behind, and is unsure as to how to engage with her brother. When she realizes she has an attraction to both a male childhood friend and a new female coworker, she struggles to develop her own sexual identity. Compounded with that is her brother's illness and her need for him to love and trust her. Colbert packs a lot into this short book: blended families, mixed-race families, religious differences, sexuality, and mental health. But, her story flows easily from one element to the next and leaves the reader to believe that they are simply catching a glimpse into the lives of one very real, very relatable American family. THOUGHTS: This wonderfully engaging book will fill a definite need in any high school library for more diverse literature for young adults. Highly recommended!
Realistic Fiction     Lindsey Myers, Shady Side Academy Senior School
Gibson, Tamika. Dreams Beyond the Shore. Blouse and Skirt Books, 2017. 978-9768267061. 180 p. $19.87. Gr. 9 and up.
Dreams Beyond the Shore is a sweet, quick, and thought-provoking novel that will introduce students to the lives of teens on the small island nation of Trinidad and Tobago. Chelsea Marchard's supports and assists with her father's run for Prime Minister, even though she abhors his domineering and controlling personality.  He believes that Chelsea's only path after high school should be to Oxford to become a lawyer, subsequently returning to her country to serve in his government. But, Chelsea, a budding writer, wants to apply to a prestigious writing program at Georgetown. Soon, however, she meets Kyron, whose presence in her life causes as much excitement as it does complications. Chelsea must decide for herself what is more important- her father's wishes or her own dreams. The story is short and does not go into much depth, and I found myself wishing to read more of Chelsea's life, and of Kyron's as well. Kyron himself is an engaging character with a background, story, and future that may or may not include life on Trinidad. The typical teen romance cliches are present, yet the setting and the plot rise this novel above the normal teen novel. The dialogue can be hard to follow, since the characters speak in the colloquial language. Yet, I believe that this only encourages the reader to want to learn more about this small nation. THOUGHTS: This is a great debut novel by a young author, and I hope to read more of her works in the future. This should be added to young adult collections that are in need of diverse voices.
Realistic Fiction     Lindsey Myers, Shady Side Academy Senior School