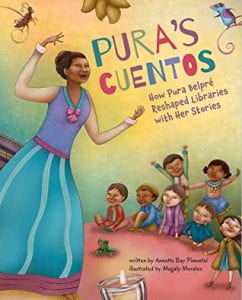 Pimentel, Annette Bay. Pura's Cuentos: How Pura Belpré Reshaped Libraries with Her Stories. Abrams, 2021. 978-1-419-74941-4. Unpaged. $18.99. Grades PreK-2. 
Born in Puerto Rico, Pura Belpré grew up listening to her aubeula's stories. When, as an adult, Puera left the island to move to New York City, she carried the stories of her aubeula and her homeland with her. In New York, Puera found a job at the 135th Street Library working with children. Belpré loved leading storytimes at the library, but rules said she could only tell stories from printed books. This meant the wonderful stories of her youth told to her by her abuela could not be shared because they were not written down. When she makes her case to her bosses, they agree that she can share her stories. Soon Puera is conducting outreach to the surrounding community, inviting all children to the library where she regularly leads bilingual storytimes, telling cuentos, some from print books, others not. Eventually Belpré wrote her stories down in book form and they were published, reaching an even wider population. Pimentel's lyrical retelling of Puera Belpré's story will introduce this important figure in librarianship to new audiences. The text is primarily in English, but Spanish words and phrases are incorporated at various points throughout the story. Magaly Morales' vibrant digital illustrations capture Belpre's energy when storytelling and interacting with children. 
THOUGHTS: This engaging biography shines a spotlight on an important figure in librarianship. Belpre was a trailblazer who strove to make public libraries more inclusive and welcoming to all. This title would pair well with Belpre's story Pérez y Martina, which is referenced several times in Puera's Cuentos.
921 Biography          Elizabeth Henry, Lampeter-Strasburg SD