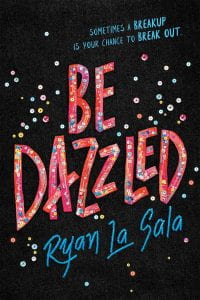 La Sala, Ryan. Be Dazzled. Sourcebooks, 2021. 978-1-492-68269-1. 336 p. $17.99. Grades 9+.
If ever there was a meet-cute, Raffy and Luca are it. They meet in the gem aisle of Craft Club, the local craft megastore, both boys zeroing in on Sea Foam Dream #6 gems. Dark-haired, dark-eyed Raffy is a supremely talented cosplay crafter/video streamer, with a devoted internet following; Luca, a smokin' hot Italian American soccer player. Raffy can't believe Luca was (he was, wasn't he?) flirting with him. Raffy introduces Luca into the nerdom of cosplay and conventions. Luca introduces Raffy to fun. Raffy, 17 year old, is so focused on impressing the judges at the various Cons he attends, hoping to gain sponsorship for his crafting, and scholarships to art school, that he has lost the joy of crafting. Teaching Luca brings back the fun. But when Raffy's maniacal intensity collides with Luca's laissez faire approach, the inevitable breakup occurs. Yet now Raffy's success at Controverse depends on working with the boy who broke his heart. Adding to the storyline is Luca's inability to tell his family he is bisexual, as well as coming out as a closet nerd, and Raffy's intense, "ARTIST" mother, who scorns sequins, satin and sewing. When all the worlds collide, will Raffy and Luca be able to survive, the second time around? This dazzling nerd romance is heart-meltingly cute. The behind-the-scenes look at cosplay crafting is fascinating, and Raffy is an expert guide to the design and creation of costumes. Both boys have loyal friends to support them, and while family issues are resolved quickly and neatly, it makes for a satisfying conclusion to a fun read.
THOUGHTS: There is nothing not to love about this bedazzling nerd romance with a happy ending.
Romance          Nancy Nadig, Penn Manor SD