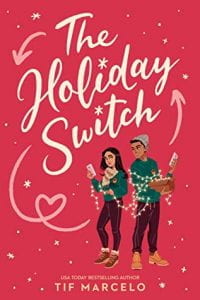 Marcelo, Tif. The Holiday Switch. Underlined, 2021. 978-0-593-37955-4. 272 p. $9.99. Gr 9-12.
Sounds like it belongs on a Hallmark Channel countdown? It does. Just like the main character's, Lila, holiday book blog Tinsel and Tropes, supports the existence of so many subgenres of holiday books, it's still a rare occurrence to locate YA holiday focused novels, with Filipino American main and supporting characters nonetheless. While Lila navigates through her last year of high school in an almost perpetual Christmas town, there's a constant air of gingerbread lattes and candy canes that make college decisions, secrets from parents, and romance seem sugar coated. Even in her most frustrated moments, she finds a cutesy-Christmasy way to convey her feelings (a la jumping jingle bells). Despite being a relatively light read, Marcelo is able to weave family, life decisions, and relationships into the plot that give the book enough weight to carry through the holiday season, like when Lila's younger sister points out that "no one really knows what they're doing, but I think you might know what the next step is."
THOUGHTS: The Filipino American main character and various supporting characters who are also Filipino American make this #ownvoices novel an easy purchase for most high school libraries. Though there isn't a ton of depth to the story, it's a nice easy read that will broaden most reader's experiences.
Romance          Samantha Hull, Ephrata Area SD
Realistic Fiction