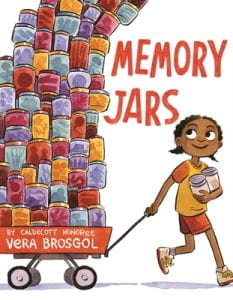 Brosgol, Vera. Memory Jars. Roaring Book Press, 2021. 978-1-250-31487-1 48 p. $18.99. Grades K-3.
Freda is disappointed when she cannot eat all the blueberries that she picked with her grandmother. Blueberry season is over, and she has to wait an entire year to eat them again! Gran reminds her that she saves blueberries in a jar by turning them into delicious jam. What a delightful idea! Freda begins to wonder- if she can preserve blueberries in jars, why not everything else in her life that are her favorite things? Things such as warm cookies, poppies (her favorite flower), her neighbor's beautiful singing voice, her best friend that is moving away, or the full moon. Only after she bottles everything up in mason jars does Freda realize that saving everything also means she cannot enjoy those very same things. Memory Jars, a picture book written and illustrated by Caldecott Honoree Vera Brosgol, is the perfect story to remind readers that some things are best saved as beautiful memories.
THOUGHTS: Memory Jars is written as a fable, complete with a satisfying lesson and delicious blueberry jam recipe at the end. The story is clever and charming as Freda learns that enjoying the moment is the best way to make memories. This book would be a perfect way to walk down memory lane to remember fun memories from a summer break, remember a loved one, or remember memories from a fun school year.
Picture Book          Marie Mengel, Reading SD