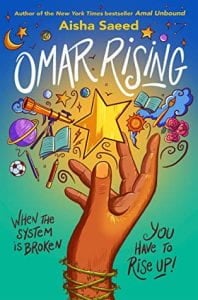 Saeed, Aisha. Omar Rising. Nancy Paulsen Books, 2022. 978-0-593-10858-1. 224 p. $17.99. Grades 5-8.
This book follows Omar, childhood friend of Amal from Aisha Saeed's Amal Unbound, in a new story about a poor student going away to an expensive boarding school. Amal and the rest of Omar's community is overjoyed that his hard work has given him the opportunity to receive such an exclusive education, but Omar quickly realizes that many inequities exist for "scholarship" students. Even though Omar is a thoughtful, hardworking student who does everything he is asked to do at his new school, he and the other scholarship students can't seem to get ahead in a system that is stacked against them. Eventually, the entire student body must come together to support Omar in a system that was never designed to allow people to move beyond their socioeconomic status. With the support of his home family, his school friends, and even the unexpected support of some of his teachers, Omar eventually discovers who he really is and all the things he can do with his opportunities in life. 
THOUGHTS: Omar is easy to root for, and his growth and hard work throughout the book are very inspiring. The way his friends support him at the end of the story was heartwarming, and the power of community is on full display in this book. Glimpses into the life of servants and people who work hard but cannot advance in society are sure to make students think about parallels they see to similar situations in their own life. 
Realistic Fiction          Erin Faulkner, Cumberland Valley SD
Omar, the son of a servant in a Pakistani village, is excited to start at the prestigious Ghalib Academy for Boys. The boarding school will provide him with so many educational opportunities, and he cannot wait to be a part of the soccer team and the astronomy club. However, when he arrives, he discovers that, as a scholarship student, he's not allowed to join any clubs or activities during his first year at school. Instead, he has to work in the kitchens to earn his keep and get even higher grades than the other students. If he doesn't succeed, he will be sent home. Frustrated, Omar and the other scholarship students set out to fight the injustice and inequity of the system and learn many life lessons along the way.
THOUGHTS: Omar Rising is a companion to Amal Unbound, but you can read each as a stand alone novel. Readers will be rooting for Omar as they feel his frustration toward the unfairness of his status as a scholarship student at Ghalib Academy. Written by a Pakistani author, this book also brings awareness to the inequities that exist for students around the world, and it's a must have for any middle grade collection. 
Realistic Fiction          Emily Hoffman, Conestoga Valley SD