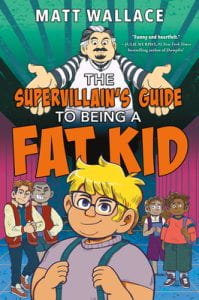 Wallace, Matt. The Supervillain's Guide to Being a Fat Kid. Katherine Keagen Books, 2022. 978-0-063-00803-8. 261 p. $16.99. Grades 4-7. 
Max, the main character of this heartbreaking and heartwarming story, is a great kid with one problem; he's a fat kid, and he endures constant bullying and ostracization at school because of his weight. He and his equally-bullied friend, Luca, spend each day at their new middle school waiting for the next attack from the biggest and most popular bully, Johnny Pro. The situation seems hopeless until Max decides to reach out to Master Plan, a notorious supervillain who was recently put in jail because of his villainous deeds. Through letters between Max and Master Plan, Max learns confidence as the older supervillain teaches him to dress well and defend himself, but when Max gets a great opportunity to appear in a popular TV baking show, he begins to wonder who is really helping who in their unusual mentoring relationship. Eventually Max decides that Master Plan did help embrace his good qualities and improve his friendships, but that he, not his supervillain hero, must take responsibility for his own happiness and success.
THOUGHTS: The body-positivity and anti-bullying messages in this book are skillfully incorporated into a funny, charming and thought-provoking tale about a kid who has to deal with a bully. The dialogue and action in this story is realistic, and students who enjoy hero-and-villain tales will appreciate the way Master Plan mentors Max and helps him find his own style and his own voice. This is ultimately a light-hearted tale that contains some excellent messages.
Realistic Fiction          Erin Faulkner, Cumberland Valley SD