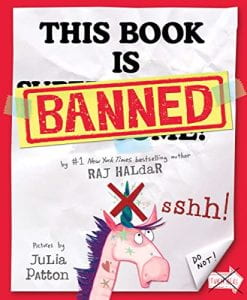 Haldar, Raj. This Book Is Banned. Illustrated by Julia Patton. Sourcebooks Explore, 2023. 978-1-728-27656-4. $18.99. Grades PreK-2.
"If we only read books that we already agreed with, we'd never learn anything new!" It begins with the hippos who don't like how tall giraffes get all the leaves, so the giraffes are banned. Dinosaurs are more exciting, but some people think they're make believe so dinosaurs are banned too. And so continue the antics in which avocados, beds, roller skating robots, and so many other things are banned. What then will this book be about? In a humorous manner, Haldar explains book banning to children through ridiculous scenarios. The final lesson "remember, even if a book isn't for you, it could still be perfect for someone else." is a perfect reminder that libraries are for all and represent all.
THOUGHTS: Preferences over what we each like is the perfect way to introduce the topic of book banning to children. With giggles guaranteed, this picture book will be a great read aloud, especially to celebrate the freedom to read during Banned Books Week.
Picture Book