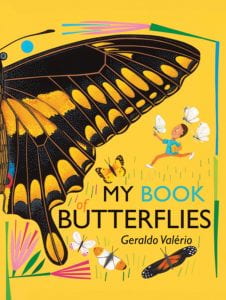 Valerio, Geraldo. My Book of Butterflies. Groundwood, 2021. 978-1-773-06335-5. 48 p. $24.99. Grades 1-3. 
Author and illustrator Geraldo Valerio introduces readers to a variety of his favorite butterflies in this beautifully illustrated title. Detailed paint, colored pencil, and paper collage illustrations vibrantly depict butterflies in various stages of life. The volume is arranged geographically, with each section depicting a selection of butterflies from a continent. Most spreads feature several species of butterflies, some shown in flight, while others rest on leaves or branches, occasionally enjoying some nectar. The accompanying text, though brief, offers readers a description of key and unique characteristics of the species. Opening pages of the volume depict the stages of a butterfly's life cycle, as well as identifying parts of a butterfly. The end pages are also a treat as they show caterpillars as well as butterflies in the chrysalis stage. Backmatter includes a glossary and list of additional resources. 
THOUGHTS: Browsers will enjoy spending some time with My Book of Butterflies and pouring over the detailed illustrations. A worthwhile purchase for schools serving young readers. 
595.78 Butterflies            Elizabeth Henry, Lampeter-Strasburg SD