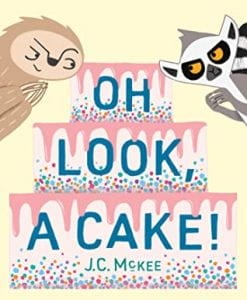 McKee, J.C. Oh Look, a Cake! Clarion. 978-0-358-38030-6. Unpaged. $18.99. Grades K-2.
Sloth and Lemur find a cake. A big, beautiful cake. Three layers. Pink icing. Sprinkles. A candle on top. This calls for a party! But whom should they invite? Elephant? Tiger? Peacock? Unicorn or the ants? Each possibility is quickly struck down, inevitably leaving only Sloth and Lemur to eat the cake. But what happens when Tiger comes looking for her birthday cake, only to find an empty plate and two slightly nauseous friends? Those familiar with Jon Klassen's "Hat" books won't be surprised at Tiger's solution. Astute readers may clue in early on the mystery of who owns the cake if they notice the black and orange striped candle on the top. The delightfully whimsical illustrations make this perfect for a read aloud, and small listeners will no doubt be squirming with giggly anticipation, as they wait to see what goes wrong when Sloth and Lemur don't share their bounty. The book could be used as a segue to a discussion on sharing, or for just plain fun.
THOUGHTS: This smile-inducing book is perfect for libraries serving young patrons.
Picture Book          Nancy Nadig, Penn Manor SD