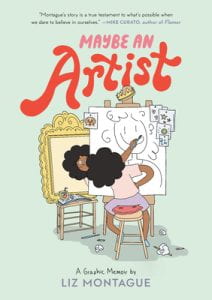 Montague, Liz. Maybe an Artist. Random House Studio, 2022. 978-1-668-85891-2. 159 p. $24.99. Grades 6-9.
When tragedy strikes the nation on September 11, 2001, Liz Montague decides she wants to pay more attention to what is going on in the world and venture out of the little bubble that is her mostly white neighborhood in New Jersey. In fifth grade, she decides she wants to be a journalist. There is only one problem – Liz writes her letters and sentences backwards. Not only that, she reads and speaks differently than other kids. She is, however, talented at drawing. Liz decides that she can still be a journalist – she would just be one that reports about important issues like climate change and racism through her art. As Liz moves on to middle and high school and starts feeling the pressures of growing up, she thinks that perhaps being an artist is not feasible. Liz wants to live up to her stellar sisters, make her parents proud, and save the world (one slice at a time, as she says). Could she really make any kind of a living with art? Would anyone take her artwork seriously? She has to find out. Liz takes a leap of faith and emails the New Yorker to let them know their cartoons should be more inclusive; the response changes the course of her life.
THOUGHTS: Maybe An Artist is the sweetest graphic memoir I have read in a long time. The story of author Liz Monague's life is so personal and written with lots of emotion and humor. Her relatable stories will resonate with and inspire students. 
Graphic Novel          Danielle Corrao, Manheim Central SD
Memoir