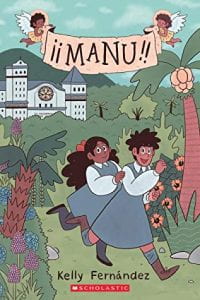 Fernandez, Kelly. ¡¡Manu!! Graphix, 2021. 978-1-338-26419-7. $24.99. 192 p. Grades 4-7.
Manu is a young girl who was given over by her family at a young age to live at a convent that is known for raising girls who have magical powers. The headmistress of the school believes Manu has very strong powers that could be used to help many, but Manu just wants to have fun with her magic. Fun often turns into mischief as Manu has trouble controlling her incredibly powerful magic. One of her pranks goes seriously wrong, and her friend, Josefina, wishes for Manu's powers to disappear. They do disappear, and the girls attempt a dangerous spell to have Manu's powers restored. Will Manu be able to control her magic before it destroys the people Manu loves?  
THOUGHTS: This graphic novel would be a great read for kids who love fantasy and stories about magic. There is an underlying theme of Manu figuring out who she is and if her friendship with Josephina is more than just friendship.  
Graphic Novel          Krista Fitzpatrick, Abington SD