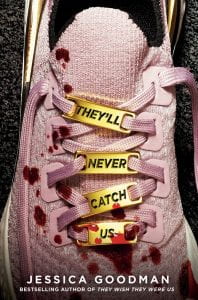 Goodman, Jessica. They'll Never Catch Us. Razorbill, 2021. 978-0-593-11432-2. 330 pp. $17.99. Gr. 9-12.
Did Stella Steckler do something to Mila Keene? That's the question at the heart of Jessica Goodman's taut sports mystery set in New York's Catskill Mountains. In Edgewater, the cross country team reigns supreme, and Stella is the star. Her main competitor is her younger sister, Ellie, who is more of a "people person" than Stella. In fact, Stella has a history of violence; she hurt another runner in an incident that is alluded to and fleshed out throughout the novel. But, after spending the summer at Breakbridge Elite Track and Field Center, Stella is back on a good path and clocking her best times yet. Ellie, meanwhile, is in a relationship with another runner's boyfriend, and dealing with her complicated feelings about the abortion she had over the summer. When champion runner Mila Keene transfers to Edgewater High, both sisters are drawn to her kindness and ability to listen without judgment. When Mila disappears, the town is plunged back into its years as "Deadwater," when three girls disappeared from the local resort's running trails and were later found, murdered, with their shoelaces missing. The cases were never solved, and with a fresh missing person's case, everyone is a suspect … and Stella isn't the only one with secrets (and first place finishes) to protect. 
THOUGHTS: With chapters alternating between Stella's and Ellie's points of view, They'll Never Catch Us is both a fast-paced mystery and a nuanced portrayal of sisters who fiercely protect each other's secrets despite their deep mutual distrust. Fans of Karen McManus will run to this one!
Mystery          Amy V. Pickett, Ridley SD