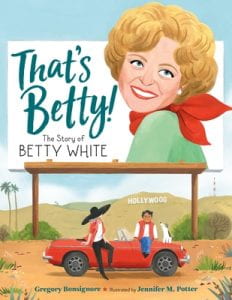 Bonsignore, Gregory. That's Betty! The Story of Betty White. Henry Holt and Company, 2022. 978-1-250-79660-8. $18.99. 48 p. Grades PreK-3.
When Miss Cruz assigns a presentation on a "trailblazing woman" one student decides he will pick Betty White as his topic. Though his classmates do not know who Betty White is, and his teacher and two dads each try to persuade him to pick a more traditional topic, the unnamed male student sticks to his idea. He adores Betty White and wants to learn more about her life. When our young researcher enlists the assistance of a librarian, he begins to find plenty of material on his unconventional topic choice. As he pours through resources at the library, a smartly dressed woman in a large hat and sunglasses appears from behind the stacks. She knows an awful lot about Betty White and engages the student in discussions about the many trailblazing accomplishments of the pioneering television star. When the student fears his topic may be too different from his peers' presentations, the woman in the hat encourages him to follow Betty's example of making unconventional choices and believing in himself. The presentation is a huge success, and the lady from the library even makes a surprise appearance to cheer on the student. It isn't until she drives away from the school that the teacher, class, and student realize the mystery woman was Betty White herself. Includes timeline and bibliography.
THOUGHTS: Very cute story that does a nice job of highlighting the many accomplishments of Betty White, while subtly championing the causes she held dear – inclusion, diversity, charitable work, and being an LGBTQIA+ ally. Wonderfully detailed illustrations by Jennifer M. Potter. Listed as K-3 this would be a wonderful read aloud for students through 8th grade.
Picture Book Biography          Anne McKernan, Council Rock SD