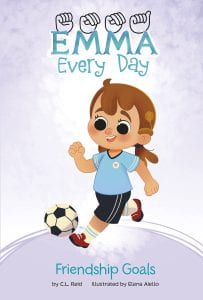 Reid, C.L. Friendship Goals (Emma Every Day). Picture Window Books, 2022. 978-1-515-87181-8. $16.99. 27 p. Grades K-2.
Emma is an 8 year old in third grade. She lives with her parents, has a brother named Jaden, and a best friend named Izzie. Emma is Deaf. She uses a Cochlear Implant and American Sign Language (ASL) to communicate. Friendship Goals is the latest story in this 12 book Early Reader Chapter Book series. In this story Emma helps her friend Izzie practice soccer and ASL. Emma is good at soccer and is happy to help her friend work on her skills and build her confidence on the field. Each book includes a finger-spelling chart. Select words are spelled out in ASL letters (rebus style) throughout the books, and each book in the series includes a glossary of ASL signs pertaining to the story. Illustrated by Elena Aiello. 
THOUGHTS: This series of books is adorable. Emma encounters everyday childhood experiences and  situations. Sometimes Emma is able to participate alongside her peers without any assistance or accommodations. In some experiences Emma (along with her family, friends, and teachers), needs to problem solve in order to participate. A wonderfully diverse introduction to Deafness, Cochlear Implants, and American Sign Language for hearing students – and an everyday life mirror for students who are Deaf. 
Early Reader Chapter Book – Anne McKernan, Council Rock SD