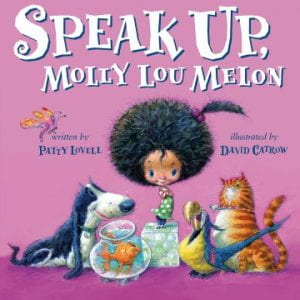 Lovell, Patty. Speak up, Molly Lou Melon. G.P. Putnam's Sons, 2020. 978-0-399-26002-5. Unpaged. $17.99. Grades K-3.
Molly Lou Melon is back for more adventure with her friends. As she plays with her animal friends, Molly Lou's mother reminds her to "Be true to yourself;" take responsibility for the things you do, good or bad;" "Accept peple for who they are and listen to their ideas, even if they are different from yours;" and "Use [your strong voice] to speak up for anyone who might need your help." In the fall when Molly Lou goes to school, she needs to apply these lessons with her friends and the class bully. At every opportunity Molly makes her friends, Ronald Durkin and Gertie; the new kid, Garvin Grape; and even the class bully Bettina Bonklehead feel welcome as she lives the values her mother taught her. Even when owning her mess (alone), Molly Lou finds a way to make cleanup an adventure and remain positive.
THOUGHTS: Elementary libraries will not want to miss this additional title about Molly Lou Melon. Molly Lou is a recognizable and important character in children's literature, and students will delight in her newest adventures. A must-have for elementary libraries, this title will be great for lessons on friendship, bullying, and making good choices.
Picture Book          Maryalice Bond, South Middleton SD