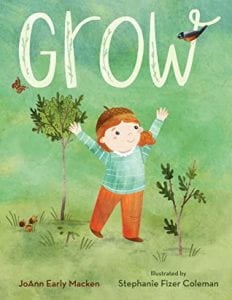 Macken, JoAnn Early. Grow. Boyds Mill Press, 2021. Unpaged. 978-1-635-92308-7. $17.99. Grades PreK-2.
This charming picture book is all about the wonders of growing up. The story is told in a series of "If you were a…" statements, comparing a child's development to the life cycles of animals and plants. As a mother and child watch falling acorns, the narrator relates an oak tree growing from a tiny acorn to a small child spreading her roots in the world. Later, a grandfather and his grandsons spot a deer with her fawns running through the woods. Just as a fawn's first shaky steps develop into a sprint, the wobbly gait of a toddler becomes a confident stride. The delightful illustrations by Coleman are rendered digitally and are the winning elements of the book. For each animal or plant comparison, the child's clothes take on that appearance. A girl is pictured wearing a green jumper with an orange shirt, mimicking the green shell and orange spots of a turtle, and the acorn watching child wears a beanie that resembles the nut's cap. On the title page, there is an oak sapling, and on the last page, it has grown into a large tree.
THOUGHTS: While the comparisons in the text are a bit weak at times, the book's drawings bring them to life. Children will enjoy listening to the story and poring over the details in the pictures. A supplemental purchase.
Picture Book          Denise Medwick, Retired, PSLA Member