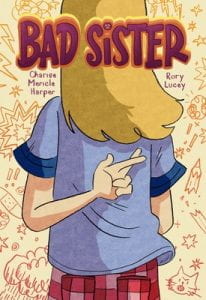 Harper, Charise Mericle, and Rory Lucey. Bad Sister. First Second. 2021. 978-1-250-21905-3. 240 p. $12.99. Grades 3-6.
Is Cherise really a bad sister to her younger brother Daniel? As the oldest, her need to dominate dictates her actions. Whatever the situation, she makes the rules and he plays along. The games (spinning in inner tubes, climbing into dumpsters, playing lawn hockey) end when someone gets hurt, cries, or both — and it usually isn't Cherise. She wants to be good and truthful, but she continues to lie and cheat to get her way. Daniel, naturally trusting and empathetic, forgives his sister over and over again, even when she's downright mean. But two accidents with serious, painful consequences test the limits of Daniel's (and their parents') ability to forgive and forget. Rory Lucey's retro color palette and artwork perfectly represent Cherise's childhood memories. He depicts their deep sibling bond by portraying them together in almost every panel. While mentioned briefly, it's unfortunate that the author did not better develop her experience of Prosopagnosia ("face blindness") or include a note with more information about the cognitive disorder.
THOUGHTS: Bad Sister is the kind of graphic memoir that leaves the reader longing to know what happens next in the author's life. It's highly recommended for readers of Cub by Cynthia L. Copeland, Stepping Stones by Lucy Knisley, and Short & Skinny by Mark Tatulli.
Graphic Memoir          Amy V. Pickett, Ridley SD