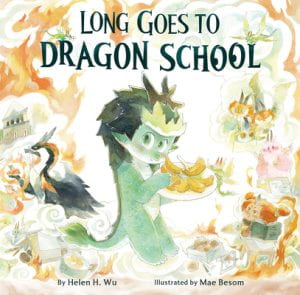 Wu, Helen H. Long Goes to Dragon School. Illustrated by Mae Besom. Yeehoo Press, 2023. Unpaged. $18.99. Grades K-3.
As the title implies, Long is a dragon-in-training that attends a school with dragons from all over the world. An interesting map on the endpapers shows each dragon's location. Unlike the other dragons, however, the Long's type of dragon does not breathe fire, but water. In back matter, the author explains that Chinese dragons are more like water sprites. Professor McKay leads the class in breathing fire exercises and encourages them to practice. The goal is to have a wonderful picnic with foods the little dragons have roasted. Of course, Long tries in vain to follow his teacher's directions. The illustrations and text show Long practicing and failing, then trying again. Long listens to Professor McKay's advice to "find your own path" and to pursue one's "unique talents." The story ends on a positive note as Long discovers at the promised picnic that it can boil the water to steam the food. The pastel watercolor washes enhance this simple, modern-day fable. Teachers can use this picture book to encourage resilience, show differences, and point out each one's special talents.
THOUGHTS: This picture book can be used as a mentor text to introduce differences or highlight the importance of practicing a skill. At first, I thought struggling readers could use this book independently because it included some rhyming and onomatopoeia, but the words became more difficult as the story progressed. At its core, it is a fable only. The illustrations are pretty but fuzzy and there are tiny little dragon comments above the characters' heads, making it hard for students to see in a read aloud setting. The comparison of different kinds of dragons around the world is interesting and noteworthy. If you are looking for a book that shows young students everyone has their own special talent if they only try hard enough to look, Long Goes to Dragon School, may be a good choice for your school collection.
Picture Book
Fantasy