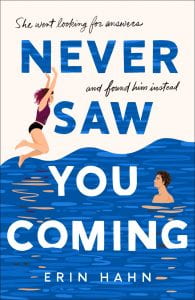 Hahn, Erin. Never Saw You Coming. Wednesday Books, 2021. 978-1-250-76124-8. 320 p. $18.99. Grades 8-12.
Upon learning that she's been lied to her entire life, eighteen-year-old Meg flees her hometown to find herself in Michigan's Upper Peninsula. While Meg tries to process her feelings and question her beliefs, she meets Micah who has his own reasons to question his faith as well. Meg, a former church youth group leader and church camp counselor, struggles to accept the strict Christian way her mom raised her when it comes out that her mom's own teen years were not so pure. Even with the church's conservative views on modesty, purity, abstinence education, and homosexuality, Meg still strongly values her faith and belief in God. And she has to reconcile her feelings. Micah, who idolized his father before he was caught in a sexual misconduct and embezzling scandal, has shunned his beliefs and struggles to find forgiveness for his father's mistakes. Life in the church community his dad demolished hasn't been easy for Micah. Both feeling wronged by the families they trusted, Meg and Micah become fast friends then more than friends, and their relationship gives them the space to process their hurt feelings, questioned beliefs, and church teachings. Told in alternating narratives, teen readers will love this sweet romance that addresses the core of one's beliefs and values.
THOUGHTS: This story is a personal one for Hahn, and she well represents the struggles that teens of faith may face. With honesty and care for the topics, Hahn addresses the church's hypocrisy in a way that will help teens consider their own feelings. Highly recommended for high school collections.
Romance          Maryalice Bond, SD