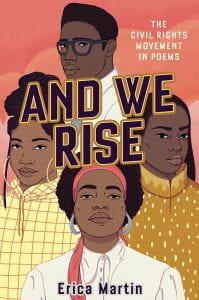 Martin, Erica. And We Rise. Viking, 2022. 978-0-593-35252-6. 153 p. $17.99. Grades 5-8.
And We Rise is a debut poetry collection that centers on the Civil Rights Movement. The first poem focuses on 1877 and Jim Crow Laws, and goes through both small and large moments that happened in the Civil Rights Movement. There is an author's note, as well as a timeline of the whole Civil Rights Movement. There is also a source list with some further reading included. The author also chose to put Martin Luther King Jr's, "Letter from a Birmingham Jail" in full at the end of the book. The poems use the physical layout to tell the story as well as the poems themselves. 
THOUGHTS: This was an extremely powerful poetry book that is a must read for every middle school student. This book is highly recommended for every middle school collection. 
808 Poetry          Mary McEndree, Lehigh Valley Regional Charter Academy
323.1 Politics