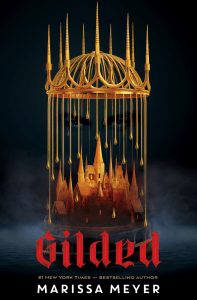 Meyer, Marissa. Gilded. Feiwel & Friends, 2021. 978-1-250-61884-9. $19.99. 512 p. Grades 8-12.
"Sometimes superstitions are all that we have been given by the gods in order to make sense of our world. Superstitions and stories." Serilda has always been a storyteller. When she was a baby, she was blessed with this gift, or curse, by the god of lies and mischief. When Serilda begins a story, she doesn't know how it's going to end, and she's just as entranced and bewitched as her listeners. Children adore her unique talent, but others simply view her as the untrustworthy and deceptive miller's daughter who spins stories and lies. When Serilda convinces the fearsome Erlking that she was out of her house on the night of a hunt collecting straw that she spins into gold in order to save two moss maidens hiding nearby, she soon finds herself inside of his dungeon with a spinning wheel, her chance to prove her story was not a falsehood. Just when all hope seems lost, a boy named Gild appears in her cell and agrees to help her, for a price. Serilda begins to realize that she may never be free of the Erlking, even if she can complete this impossible task, and she soon finds herself right in the middle of one of her own fantastical, mysterious, and dangerous tales.
THOUGHTS: Marissa Meyer has created a new world for her retelling of the Rumpelstilskin tale. Unlike the Lunar Chronicles, this new series is not science fiction, nor is it standalone like Heartless. Rather, she brings to life the dark and foreboding atmosphere reminiscent of classic fairy tales where danger lurks around every corner, and happy endings are few and far between. Readers will be drawn into Gilded just as eager listeners are drawn into Serilda's mesmerizing and spellbinding tales.
Fantasy          Emily Hoffman, Conestoga Valley SD