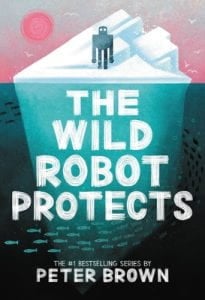 Brown, Peter. The Wild Robot Protects. Little Brown and Company, 2023. 978-0-316-66941-2. 277 p. $17.99. Grades 3-5.
The Wild Robot Protects takes the reader back to the island with Roz and her family. Everything is going well when a seal comes to the island and warns the creatures of a "poison tide" that is headed towards the island. Many of the animals leave the island, some such as Roz's son Brightbill decide to stay as this island is their home. Roz decides that she is going to figure out where the "poison tide" is coming from and she will stop it as well. She learns that she  needs to find an ancient shark and ask them for help, so off she goes. The reader follows Roz as she goes off on this adventure, and they will wait with anticipation to find out whether Roz was able to save the island and stop the "poison tide".
THOUGHTS: The Wild Robot series is so fun, whether being used for a read aloud with a group of students, or just read by one student for pleasure. This addition is as wonderful as the rest of them! This would be a great book to use with a climate change unit, or just as a read aloud (as long as the class is familiar with the other Wild Robot books). Highly recommended for any elementary school collection.
Science Fiction