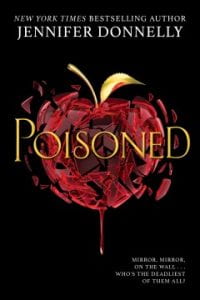 Donnelly, Jennifer. Poisoned. Scholastic Press, 2020. 978-1-338-26849-2. 307 p. $17.99. Grades 7-12.

All of her life Sophie, Princess Charlotta-Sidonia Wilhelmina Sophia, has been told that kindness will be her downfall, her heart is to soft to be a good leader. And Sophie believes every word. Fearing her stepmother's strict ways, Sophie tucks her kind heart away, trying to hide her true self. She agrees to give her heart to a prince who is better suited to lead her kingdom. Sophie "locks away" her heart as she prepares to become Queen, but she doesn't have the chance to fulfill this destiny. Her stepmother has other plans in mind. When Sophie awakens, following a violent event, she is greeted by seven brothers and their helpers, who have taken in Sophie and nursed her back to health in seemingly impossible ways. Not feeling completely herself, Sophie tentatively accepts her life in The Hollow. But Sophie feels like there's more to the story, and she won't have all of the answers until she embarks on a dangerous journey. Sophie's character and her kind heart are tested repeatedly, as Sophie learns what it takes to be a true leader. But is her faulty heart up to the challenge, and will she survive all the evil that wishes her dead? Sophie's story is not a romantic fairytale but instead is about one's journey towards self discovery.
THOUGHTS: Young adult readers need Sophie in their lives. I loved this reimagined Snow White story and appreciate Donnelly's incorporation of other themes – like how women are told what they are and are not capable of doing or being. Poisoned deserves a place in every middle or high school collection.
Fantasy          Maryalice Bond, South Middleton SD