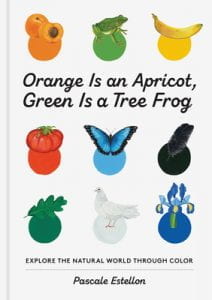 Estellon, Pascale. Orange is an Apricot, Green is a Tree Frog. Princeton Architectural Press, 2021. 978-1-648-96014-7. Unpaged. $18.95. Gr. PreK-1.
Colors appear throughout nature from fruits and vegetables to birds and sea creatures. Each color is unique and brings about an understanding of the natural world. Combined, the colors enrich everyday items and create associations. Each highlighted color in Orange is an Apricot, Green is a Tree Frog begins with "__________ [the color] looks like", and then has dots of varying shades of that color along with images of plants, animals, and food that are the highlighted color. Through this setup, children can see the varying degrees of each color while learning the color and a variety of everyday items they may encounter. 
THOUGHTS: Although plain in design, the use of white space helps to highlight each color and those natural things with the color. Words are sparse, but that also is important because they are names of the pictures and colors. This is a great book for teaching students colors and about nature.
Picture Book        Erin Bechdel, Beaver Area SD