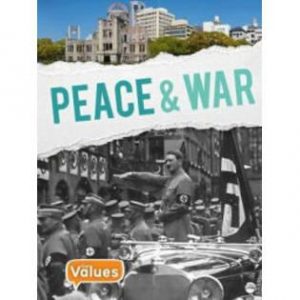 Ogden, Charlie. Peace & War. Crabtree, 2018. 978-0-778739074. $8.95.  32pp. Gr. 4-6.
This book is a good introduction to the subject of war and peace for the younger reader (about 10 to 12). It includes bolded vocabulary that is included in a glossary, a Table of Contents, an index, and discussion questions. At 32 pages the book does not go in-depth into the subject matter, but it does offer a decent overview to different types of war, consequences of war, and significant wars in history (significant to American readers). The photographs, type, and layout are visually appealing.THOUGHTS: This is a good introductory resource for children about a difficult subject: war. This book handles the atrocities of war well. The visuals and text are suitable to the young reader, but the images chosen (the pile of shoes from the Holocaust, the 911 memorial, napalm burning, etc.) are just horrible enough to make an impact but not so graphic as to cause nightmares. This would be a good, not overwhelming resource about the subject of war and peace for younger readers.
Juvenile Nonfiction                                                Bridget Fox, Central Bucks SD
Ecosystems Research Journal (series). Crabtree Publishing, 2017. $27.60 Hardcover, $8.95 Paperback. 32p. Gr. 4 – 7.
Hyde, Natalie. Amazon Rainforest Research Journal. 978-0778734925.
Hyde, Natalie. Great Barrier Reef Research Journal. 978-0778734956.
Hyde, Natalie. Rocky Mountains Research Journal. 978-0778734963.
Johnson, Robin. Everglades Research Journal. 978-0778734949.
Johnson, Robin. Sonoran Desert Journal. 978-0778734970.
Rodger, Ellen. Arctic Research Journal. 978-0778734932.
The hands-on reporting style and colorful photographs will catch students attention. The information about environment, animals, and the attention to detail will impress teachers and librarians. Every journal has a mission, unique to the area the research takes place in. The arctic is focused on climate and environmental changes whereas the everglades has a wildlife biologist studying loss of freshwater and if there are other concerns such as pollution or invasive species. All the journals have 11 entries chock full of status reports (how an animal or landmark is doing), sightings of animals, and descriptive facts.  THOUGHTS: I think the layout of the book will appeal to students. Many have words written as if the author is keeping a journal on a tablet, iPad, or phone. This series also has more titles to offer that will be coming out in the next year or so.
Series Nonfiction; Ecosystems       Emily Woodward, The Baldwin School