Farish, Terry. Either the Beginning or the End of the World. Minneapolis: Carolrhoda Lab, 2015. 978-1-4677-7483-3. 191p. $18.99. Gr. 9 and up.
Sophie Grear, 16 years old, is her father's daughter. She has, until now, shared all her secrets with her fisherman father, and they act as a well-oiled machine, living together since Sophie was a young child. Her relationship with her mother is almost non-existent, so when Sophie's mother and grandmother come to live with her because her father is away for months fishing, the tension is palpable. Immigrants from Cambodia and survivors of the atrocities inflicted by the Khmer Rouge, mother and grandmother carry scars as well as traditions and superstitions that Sophie at first must endure. Relationships are further complicated by the fact that Sophie is involved in her first real relationship, with Luke, a former medic and veteran of the war in Afghanistan who suffers from PTSD. The beauty of this coming-of-age novel lies in Sophie's recognition that both her Cambodian mother and grandmother and her boyfriend Luke suffer from similar psychological and emotional damage caused by experiences of war and suffering, and she evolves from being a typical self-centered teenager to being an empathetic young adult. THOUGHTS: Trauma comes in many forms, and certainly our students can relate to families struggling with mental and emotional challenges. This novel offers hope and optimism for seemingly impossible relationships.
Realistic Fiction      Annette Sirio, Barack Obama Academy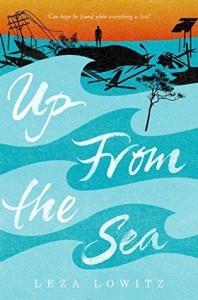 Lowitz, Lena.  Up From the Sea.  New York: Crown Books, 2016.  978-0-553-53474-0.  272 p. $17.99.  Grades 7 and up.
Up From the Sea is a novel-in-verse based on the 2011 earthquake and tsunami in Honshu, Japan.  Kai is a 17 year-old who lives with his mother and grandparents in a small seaside community (his father abandoned the family years before the quake).  The quake hits while Kai is at school and even though he, and most of the school community get out safely, Kai's family is lost in the earthquake/tsunami.  Later, the survivors take refuge at the school and wait.  They wait for family members to be found, they wait to be found, and they wait for life to get back to "normal".  Kai is eventually nominated to go to America with other teenage earthquake victims.  The children of 3/11 will be meeting with people who survived 9/11 to talk, grieve, and learn to move on.  Kai goes on the trip.  He attempts to make contact with his estranged father (unsuccessfully) and he learns that the best way to move on from the disaster is to go back home and be part of the recovery.  Later, in Japan, Kai finds that passing his love of soccer on to younger students is the best way for him to aid the recovery.  When his father, newly out of rehab, comes to take Kai with him to America, Kai knows he has found his purpose and his home; he will not leave his beloved Japan.  THOUGHTS: Lowitz's book, one of many recent novels-in-verse, lacks the grace and poetry of some books in this genre.  It does, though, capture what being a teenage boy must feel like.  This book is a good introduction to novels-in-verse for young men and should be included in junior and senior high book collections.
Up From the Sea is a powerful depiction of the 2011 Japanese Earthquake and Tsunami.  Kai is a relatable young man; in many cases he is fearful, angry, and childlike.  In other situations, we see hints of the adult Kai will become.  Although novels-in-verse are very popular with students, this is one book that I would like to have seen presented in traditional prose.  Kai goes through a great deal in this story.  He is the only member of his family to survive the horrible disaster.  He lives the complicated life of a biracial teenager in Japan.  He gives hope to a younger generation of Japanese children by forming a youth soccer league.  Finally, he learns to forgive the father who abandoned him when he was a young boy.  I would like to have seen these events addressed in a deeper way.  This book was not poorly done, by any means, but it could have been much more.
Realistic Fiction; Novel in Verse                         Susan Fox, Washington Jr./Sr. HS
Zink, Michelle. Lies I Told. New York, NY: HarperTeen, 2015.  978-0-06-232712-3. 341 p. $16.99. Gr. 9-12.
Grace was a child of the foster care system until being adopted by the Fontaines, a couple of thieves who use Grace and her brother, Parker, to accomplish their cons. They con the wealthy out of anything from money to art and jewelry. Grace is an expert at making friends, following the rules of the con, and completing any heist; however, when they move to Playa Hermosa, California, and Grace forges stronger friendships than she had in any previous location, she begins to break certain rules of the con. Her feelings for Logan, who is the son of the mark, complicate matters more. Grace is conflicted between her feelings for her new friends and the rules of the heist, which helps to build the suspense. With a twist ending, readers will be left wanting more.  THOUGHTS: Lies I Told is an excellent addition to any thriller/suspense collection. The blending of friendship, family, romance, and con make it appealing.
Realistic Fiction; Thriller     Graig Henshaw, Littlestown Senior HS/Maple Avenue MS