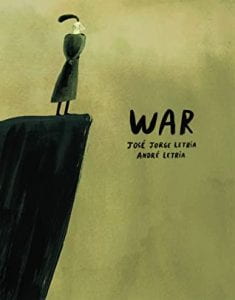 Letria, Jose Jorge. War. Greystone Kids, 2021. 978-1-771-64726-7. Unpaged. $17.99. Grades 4 -6.
With sparse words and dark pen and ink drawings, Jose Jorge and Andre Letria offer a haunting portrayal of war. The book imparts a strong sense of unease and sorrow with war being depicted as a non-feeling, cold presence delighting in the misery of the citizens it affects. The work delivers a powerful anti-war message, examining the sobering human impact of the ravages of war. A picture book best saved for older grades. 
THOUGHTS: Could be used in conjunction with a unit on the Holocaust. 
Picture Book          Nancy Summers,   Abington SD