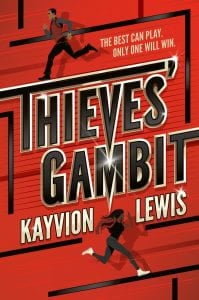 Lewis, Kayvion. Thieves' Gambit. Nancy Paulsen Books, 2023. 978-0-593-62536-1. 384 p. $19.99. Grades 8-12.
Ross Quest is about to pull off the biggest heist of her life in order to save her kidnapped mother in this action-packed YA thriller. Ross and her mother have planned many robberies together—as one of the most notorious thief-families in North America, they have a reputation to uphold. When a robbery goes awry, Ross reluctantly must enter into the mysterious and dangerous Thieves' Gambit, a high-stakes game made up of the best young criminal minds from around the world. If Ross wins, she'll have one wish granted: in her case, it's the wish to rescue her mother by paying her mother's billion dollar ransom. All goes according to plan until feelings for one of the contestants, the handsome British Devroe, threatens to throw Ross off of her game. Filled with twists and turns right until the end, this one will keep your students reading the whole way to the last page.
THOUGHTS: A high-stakes heist must-read title. For teens who love lots of action, twists, turns, and a fast-paced plot, this is the ideal story. Thieves' Gambit reads like a heist movie on paper as it takes readers on a wild adventure around the world. Ross is a likable and realistic character trying to fulfill quests before time runs out. There is enough romantic tension between Ross and Devroe that will keep romance readers loving this book, too. Ideal for fans of series like The Inheritance Games. Strong diversity and character development.
Mystery