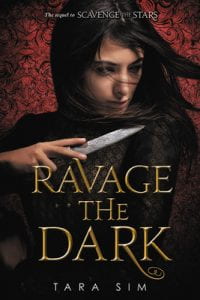 Sim, Tara. Ravage the Dark. Little, Brown Books for Young Readers, 2021. 978-0-759-55533-4. $18.99. 416 p. Grades 9-12.
Amaya has had a hard life, and seven years of it was spent imprisoned on a ship. After paying her debt and earning her freedom, Amaya posed as a countess to bring down the men who take children away from their families as debt payment, but when she was betrayed by the man she thought was a friend, she swore she would have her vengeance. While posing as a countess, Amaya met Cayo Mercado, and although they have their differences, the two must work together to discover the origin of a mysterious plague ailing Cayo's sister and it's connection to the counterfeit coins circulating Moray and the surrounding nations. Together they uncover secrets, fight corruption, and discover that amid the chaos, they may also have feelings for each other. 
THOUGHTS:  The first book in the duology, Scavenge the Stars, was loosely based upon the plot of The Count of Monte Cristo, and this sequel has just as many twists and turns that will keep readers intrigued until the very end! I'd recommend this book to readers who enjoy action, adventure, and plot twists.
Fantasy          Emily Hoffman, Conestoga Valley SD