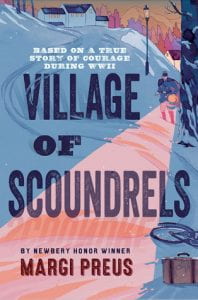 Preus, Margi. Village of Scoundrels. Amulet Books, 2020. 978-1-419-70897-8. 295 p. $16.99. Grades 5-8.
To the people of Nazi ocupied France, every step must be calculated and every risk weighed carefully. In this powerful novel, Preus explores how the young people of France band together in order to smuggle refugees across the border into neutral Switzerland. Henni, a Jewish girl in hiding, helps to protect children by hiding them in the woods during Nazi raids on their hiding spot. Celeste bravely travels across the country to procure items necessary to continue bringing people to safety. Although these girls are brilliant in their work, they also need someone who can provide legal documents and safe travel. Jean Paul is an expert at forgery, and Philippe is knowledgeable with the terrain and how to arrange passage. This group of children will assist the extrication of hundreds of people and stand up for what is right no matter the risk and danger associated with their tasks.
THOUGHTS: This novel is based on a true story and is thoughtfully written. The pages are filled with accurate details and French and German words. The author provides a Cast of Characters (almost like a Playbill) and a pronunciation guide at the start of the book. This proves useful because there are a variety of characters to keep up with, which at times is overwhelming as they jump from person to person within a chapter. A great read for those who enjoy reading historical fiction and the World War II time period.
Historical Fiction        Jillian Gasper, Northwestern Lehigh SD