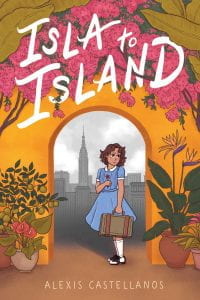 Castellanos, Alexis. Isla to Island. Atheneum Books for Young Readers, 2022. 978-1-534-46923-5. 192 p. $12.99. Gr. 4-7.
Until Fidel Castro's rise to power in 1959, Marisol enjoyed an idyllic childhood in Cuba with her devoted parents, delighting in the sights, lush surroundings, and delicacies of her beloved island home. But to protect her amidst food shortages and increasing violence, her parents make the heart wrenching decision to send their daughter to Brooklyn with "Operation Peter Pan" in 1961. The transition from "isla to island" is not an easy one for Marisol. She faces a language barrier, bullies, and her first taste of winter. Author/illustrator Alexis Castellanos depicts early scenes in Habana in bright, appealing colors, but Marisol's world becomes a dismal black and white when she arrives in New York City. Spots of color (a blossom here, a book there) emerge as she acclimates to her new surroundings, but adjusting takes time and plenty of tears. Luckily she is cared for by an older couple who, though they cannot replace Marisol's family, are very kind. For example, the woman shows Marisol how to use Kotex pads when she gets her first period, and they take her to the Brooklyn Botanic Gardens greenhouse to support her love for nature. A hopeful ending hints at Marisol's bright future.
THOUGHTS: This exceptionally lovely, mostly wordless graphic novel, which turns on a too-little-known historical event, is not to be missed!
Graphic Novel          Amy V. Pickett, Ridley SD