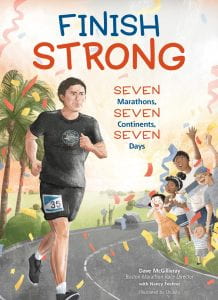 McGillivray, Dave. Finish Strong: Seven Marathons, Seven Continents, Seven Days.  Nomad Press, 2021. 978-1-647-41039-1. $16.95. 288 p. Grades K-5.
This story about Dave McGillivray, the Race Director for the Boston Marathon, tells the true tale of his World Marathon Challenge: the challenge to complete seven marathons on seven continents in just seven days! Traveling around the world, children will read how he overcame many obstacles to complete this challenge. Includes McGillivray's "Dream Big Marathon" for kids, which challenges kids to run, read, and perform acts of kindness.   
THOUGHTS: This is an inspiring story and would be enjoyed by students who love track and cross country racing. The Dream Big "Marathon" is a nice way to show students that fitness, reading, and kindness all contribute to making a whole person.
Biography         Krista Fitzpatrick, Wissahickon Charter School
Picture Book