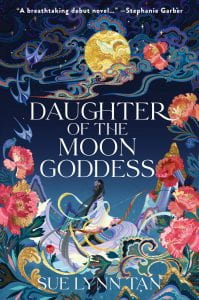 Tan, Sue Lynn. Daughter of the Moon Goddess. Harper Voyager, 2022. 978-0-008-47929-9. 501 p. $27.99. Grades 9-12. 
Xingyin was raised on the moon by her mother, unaware that they were actually hiding from the Celestial Emperor. One day, Xingyin's magic causes her to have to leave her mother behind, and she ends up training alongside the Celestial Emperor's son. Xingyin tries not to let anything distract her, especially a romance with the 'enemy' and she begins working on trying to save her mother. Will Xingyin be able to have both a relationship with the ones she loves and save her mother, or will she have to choose?
THOUGHTS: This was an amazing debut novel full of Chinese mythology, romance, and fantasy. The size of this novel is intimidating; however, the pages fly as the reader delves into the world that Sue Lynn Tan has created. I highly recommend this book for any fantasy lover or just someone who loves a well-written book.
Fantasy          Mary McEndree, Lehigh Valley Regional Charter Academy