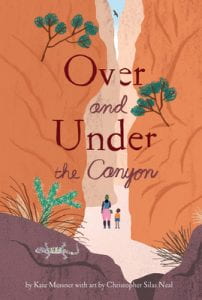 Messner, Kate. Over and Under the Canyon. Chronicle Books, 2021. 978-1-452-16939-2. 56 p. $18.99. Grades K-3. 
Discover the wonders of a desert ecosystem in the newest edition of Kate Messner's ecology-based Over and Under series. This story is about one family's hike through a real-world desert habitat. Messner's book Over and Under the Canyon aligns perfectly with national science standards with excellent and amazing facts about the animals, wildlife, and wonders that inhabit the desert world. With colorful and vivid illustrations by award-winning artist Christopher Silas Neal, this picture book is undoubtedly driven by an engaging narrative packed with STEM content. In addition, the content within the story provides many opportunities to discuss the importance of natural habitats and ecosystems and how to preserve our natural wonders. As a result, readers will be engaged in every page turn. 
THOUGHTS: Science-loving readers will want to explore this fact-filled story about animals and wildlife. Curiosity may grow with each page, and educators will be able to dive into the well-researched content. Messner's other books in this series include: Over and Under the Pond and Over and Under the Rainforest. Add this gorgeous book to your science collection! 
Picture Book          Marie Mengel, Reading SD