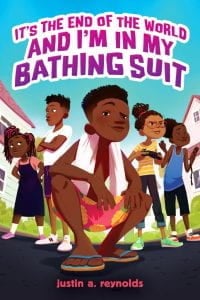 Reynolds, Justin A. It's the End of the World and I'm in My Bathing Suit. 978-1-338-74022-6. 304 p. $17.99. Grades 4-7.
Eddie is rocking summer vacation. He has managed to weasel out of doing his laundry, his agreed-upon summer chore, by methodically wearing every piece of clean clothing until he's down to his swim trunks. This is when the plan falls apart; mom discovers the odorous closet stuffed with dirty clothes, and grounds Eddie, on the day of the big beach bash. He is home alone with a load of wet clothes in the dryer, and another load in the washing machine when the power goes out. As Eddie pokes around the deserted neighborhood, he encounters four friends and learns not only is their power out, too, but the kids seem to be the only people in their neighborhood. So what do you do when all the grownups are gone? Eat junk food!! But when no one can reach their families at the beach, a frisson of worry interrupts their unsupervised glee. The friends pool their knowledge and come up with a credible plan to stick together (it involves entering neighbors' homes to search for useful items like flashlights, sleeping bags, food, and deodorant). Reynolds provides a lighthearted dystopian story (that's probably an oxymoron) that will keep readers wondering what happened until the very last page and its cliffhanger ending. The kids, all Black, are an engaging group who realistically swing between joy at being on their own, and worry for their family and the long-term outlook. The one possible drawback to the book is Reynolds' unusual choice for narration. Written in first person, from Eddie's point of view, the story is basically a monologue, with Eddie addressing the reader. While the story feels more natural when the friends are conversing, Eddie is an entertaining, honest narrator who openly discusses his ADHD, thoughts about being in therapy and his new step-dad (whom he calls WBD – Wanna-Be Dad.) 
THOUGHTS: Some readers may be thrown by the lengthy interior monologue, but others may be captivated by the conversational tone of the writing. The lack of resolution and the cliffhanger ending will leave fans anxiously awaiting the sequel. 
Science Fiction          Nancy Nadig, Penn Manor SD
Dystopian