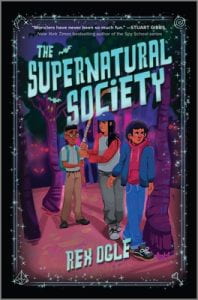 Ogle, Rex. The Supernatural Society. Inkyard Press, 2022. 978-1-335-42487-7. 281 p. $16.99. Grades 4-7.
Will moves with his mom and his dog, Fitz, from New York City to a new school in East Emerson because his parents have recently divorced, and he is not pleased. Will deals with quite a bit of culture shock as he acclimates to small-town life and realizes that East Emerson isn't just a sleepy, boring town; his new home is also overrun with monsters! Eventually, though, he befriends Linus and Ivy, two siblings from his neighborhood who help him deal with the monsters and make him feel as though he has found a "tribe" among all the upheaval and heartbreak in his life.
THOUGHTS: Good for students who want more scary stories, those who are fans of Stranger Things and groups of smart, multicultural kids finding monsters and solving mysteries. Linus is unapologetically smart, Ivy is strong, and Will is the glue that holds the band together. Students will be waiting with excitement for future books as well! This story will also serve as an unusual but interesting way to lead students to Free Lunch, Rex Ogle's gritty and fascinating memoir.
Mystery Fiction          Erin Faulkner, Cumberland Valley SD
Supernatural Fiction