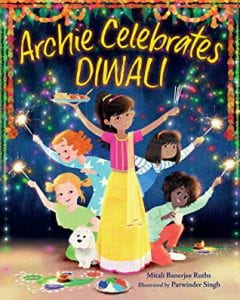 Ruths, Mitali Banerjee. Archie Celebrates Diwali. Illustrated by Parwinder Singh. Charlesbridge, 2021. 978-1-623-54119-4. Unpaged. $16.99. Grades K-3. 
Archimena invites a few friends from school to celebrate her favorite holiday, one that many had not heard of before. Archie and her family prepare for the celebration with lights, decorations, and special recipes, but when all the guests arrive, a sudden storm knocks out the power. Archie worries the party will be ruined, but her friend's question about the story of Diwali gives Archie a chance to explain the customs and traditions of the Hindu festival of lights. The text features descriptions of the delicacies and rituals common to the celebration and the brightly colored illustrations highlight the festive focus of the occasion. Also includes a glossary and directions to complete a Diwali craft. 
THOUGHTS: A good choice to highlight diverse cultures by sharing some of the details of a lesser known holiday. 
Picture Book          Nancy Summers, Abington SD