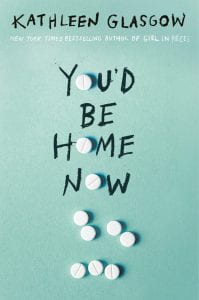 Glasgow, Kathleen. You'd Be Home Now. Delacorte Press, 2021. 978-0-525-70804-9. 400 p. $18.99. Grades 8-12.
For her whole life Emory's family has been well-known in the town of Mill Haven. Her great great grandfather founded the mill that employed many of the town's families for generations. But the mill has been abandoned for some time, and people have very different opinions about what should become of the space. Emory also is the little sister of Joey who overdosed and passed out while his best friend Leonard caused a life altering car accident, one that devastated their small town and Emory's family. Now Emory is known as someone who was in the car when Candy died. Joey is on his way back from rehab, and their older sister Maddie is away at college. With workaholic parents who aren't always around, Emory is tasked with keeping an eye on Joey who has been given some pretty serious restrictions to keep him "on the right path." Always feeling invisible in the shadow of her perfect sister and self-destructive brother, Emory has been a good girl, a rule follower. But Emory needs someone to see her. Next door neighbor Gage, who Emory has had a crush on, shows her attention, though secretly, and it feels good for someone finally to notice her even if not out in the open. Despite some questionable choices, Emory is managing and keeping an eye on Joey. Until she isn't. Secrets are brought to light, Joey disappears, and Emory loses herself. Will she pick up the pieces and figure out who she wants to be before it's too late?

THOUGHTS: Readers will root for Emory and Joey while cringing at some obvious warning signs. Glasgow writes a compelling, character driven novel that shines light on addiction's impact on family, friends, and community. Teens will appreciate the authentic portrayal of serious issues.

Realistic Fiction          Maryalice Bond, SD