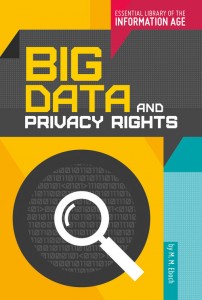 Essential Library of the Information Age. Minneapolis: ABDO, 2017. $24.95ea. $149.70 set of 6. 112p. Gr. 8-12.
Eboch, M.M. Big Data and Privacy Rights. 978-1-68078-282-0.
Higgins, Melissa and Michael Regan. Net Neutrality. 978-1-68078-286-8.
Laine, Carolee. Book Banning and Other Forms of Censorship. 978-1-68078-283-7 .
Laine, Carolee. Content Ownership and Copyright. 978-1-68078-284-4.
Perdew, Laura. Information Literacy in the Digital Age. 978-1-68078-285-1.
Perdew, Laura. Online Identity. 978-1-68078-287-5.
The Essential Library of the Information Age examines the sometimes contentious and controversial issues that are present in today's digital world. As the internet and digital world has evolved and changed, so too have the ways individuals deal with issues such as privacy, identity, censorship, copyright, access to information, and content ownership. Each volume of this series investigates one of these controversial topics in-depth. Each book includes an overview of the topic under discussion, presented in terms understood by laypeople. Also included is historical background information on the topic. Controversies surrounding each topic are fully discussed, with equal weight given to both sides of the issue. Numerous real-life examples are presented within the text and also included in sidebars. Other sidebars serve to define and further explain  information concepts.  THOUGHTS: This series does an admirable job of presenting what can be difficult to understand topics (net neutrality, for example) in a clear, easy-to-understand manner. Illustrative examples of issues are relevant to to the topics being discussed and further enhance understanding. Recommend for purchase in schools where research/projects warrant.   
Technology      Elizabeth Henry, Lampeter-Strasburg HS/MS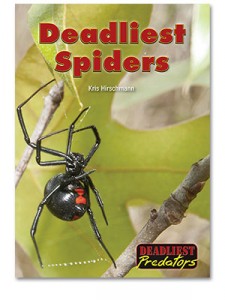 Deadliest Predators. San Diego: Reference Point Press, 2016. $29.95 ea. $179.70 set. 80 pp. Gr. 5 and up.
Abramovitz, Melissa. Deadliest Sharks. 978-68282- 0544.
Altman, Toney. Deadliest Mammals. 978-168282- 00506.
Hirschmann, Kris. Deadliest Reptiles. 978-168282- 0520.
Hirschmann, Kris. Deadliest Snakes. 978-68282- 0568.
Hirschmann, Kris. Deadliest Spiders. 978-68282- 0582.
Nardo, Don. Deadliest Dinosaurs. 978-168282- 0483.
These titles aim to give details on the "deadliest" animals of their type. In Deadly Dinosaurs, this task is done by offering six chapters, each devoted to a different predator: T. Rex (which likely lumbered like an elephant), Carcharodontosaurus (whose first discovered bones were destroyed by a WWII bomb hitting Munich), Spinosaurus (whose bony spinal "sail" could have been used to intimidate predators), Troodon (which appears to have been the smartest of all dinosaurs), Sonorithosaurus (which had feathers and wings—for gliding not flying), and Predator X (the seas' top predator). Predator X was huge and "had teeth that would have made a T. rex whimper" (60). Not for arachnophobes, Deadliest Spiders provides a detailed view of the world's spiders to avoid. Photos and illustrations are kept to one per two-page spread, leaving ample room for more detail and color. Six spiders are covered in ten pages each: the Black Widow Spider (and its well-known red marking), the Brazilian Wandering Spider (which wins the title of world's most venomous spider), the Chilean Recluse (whose venom works to liquefy its victims' internal organs), Sydney Full-Web Spider (whose nocturnal and underground habits fortunately limit its encounters with humans), the Eastern Mouse Spider (native to Australia), and the Indian Ornamental Tarantula (due to their beautiful markings and calm nature, these are popular as pets). Each spider's physical characteristics, homeland and hunting patterns are discussed, followed by descriptions of the effects of its venom and a caution to steer clear or proceed cautiously with any spider. Nardo closes with useful source notes, glossary, further research list, and index.  THOUGHTS: A descriptive series that will attract readers for its topics and its content.
500s Animals; Dinosaurs        Melissa Scott, Shenango High School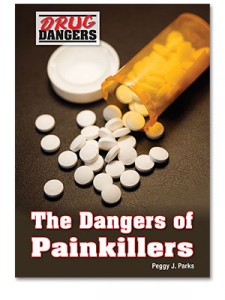 Drug Dangers. San Diego: Reference Point Press, 2016. $29.95 ea. $239.60 set. 80 pp. Gr. 5 and up.
Allen, John. The Dangers of Heroin. 978-168282- 0186.
MacKay, Jenny. The Dangers of Hallucinogens. 978-168282- 0162 .
Marcovitz, Hal. The Dangers of Methamphetamine. 978-168282- 0223.
Mooney, Carla. The Dangers of Marijuana. 978-168282- 0209.
Mooney, Carla. The Dangers of Synthetic Drugs. 978-168282- 0261.
Parks, Peggy J. The Dangers of Alcohol. 978-168282- 00124.
Parks, Peggy J. The Dangers of E-Cigarettes. 978-168282- 0148.
Parks, Peggy J. The Dangers of Painkillers. 978-168282- 0247.
Both The Dangers of Hallucinogens and The Dangers of Painkillers are structured with five chapters which cover the scope of the problem, the drug's effects, how addictive the drug is, treatment options, and prevention of drug abuse. The format is inviting, with photographs, graphs, or sidebars added to enhance the material. The limits of the law are considered, as are challenges to the law, and difficulties that medical professionals regularly see. It is noted that teenage athletes are at risk for painkiller abuse due to injuries for which doctors prescribe painkillers. The "street names of hallucinogens" is a helpful sidebar.  THOUGHTS: Overall, this a solid series that updates readers with current situations.
362.29 Drugs and Alcohol      Melissa Scott, Shenango High