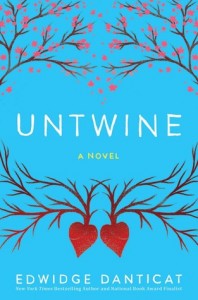 Danticat, Edwidge. Untwine. New York: Scholastic Press, 2015. 978-0-545-42303-8. 303 p. $16.99. Gr. 6 and up.
Identical twins, Giselle and Isabelle, were holding hands in their mother's womb before being born, and they continue to hold hands, literally and figuratively, through life and death. Giselle survives a horrible car crash, struggles through an other-worldly coma, during which she is initially identified as her twin, hears visitors to her hospital room, including her parents, relatives, doctors and nurses, and experiences the frustration of not being able to communicate. It is painful to read as she realizes, from what she hears, that Isabelle has died. Told through Giselle's voice, we learn about the twins' lives, their friends and family, their plans, hopes, crushes, similarities and differences. But, the relationship between identical twins is not the only kind of close relationship examined in Untwine. Before the accident, it is revealed that the twins' parents are planning to divorce, so when Isabelle dies, Giselle is left wondering if her family is falling apart. Fortunately, her Aunt Leslie provides much needed support along with other relatives, including her Haitian grandparents who provide warmth, comfort and an example of lifelong love. This journey could be heart wrenching or sappy, but Danticat skillfully paints genuine portraits of all her characters and so avoids sentimentalizing the story. THOUGHTS: A lovely story of family, friends, loss and hope.
Realistic Fiction     Annette Sirio, Barack Obama Academy of International Studies
Stanley, Shalanda. Drowning is Inevitable. New York: Alfred A. Knopf, 2015. 978-0-553-50828-4. 288 p. $17.99. Gr. 9-12.
Four friends, bound together by mutual trust and caring, negotiate a series of difficult circumstances, relying heavily on each other for support. Olivia, whose mother committed suicide by drowning herself when Olivia was an infant, is best friends with next door neighbor, Jamie, whose father is a violent alcoholic. Everyone in her small town knew Olivia's mother, and now as Olivia nears her 18th birthday, the age at which her mother killed herself, she is acutely aware of the comparisons made between her mother and herself, particularly her tendency to take dangerous risks. When Jamie's father is killed as a result of a physical fight that involved Jamie and Olivia, Jamie, Olivia, Max and Maggie get out of town, heading to New Orleans where Olivia's estranged mother lives. Faced with evading the police while crashing at a drug dealer's house, the four friends face an uncertain future. THOUGHTS: This entirely realistic novel of family dysfunction and friendship will definitely appeal to teen readers who often turn to their friends for help. Recommended.
Realistic Fiction     Annette Sirio, Barack Obama Academy of International Studies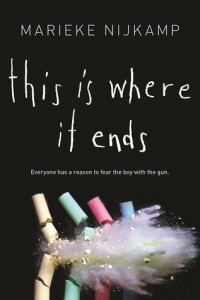 Nijkamp, Marieke. This is Where it Ends. Naperville, IL: Sourcebooks Fire, 2016. 978-1-4926-2246-8. 285 p. $17.99. Gr. 8 and up.
This story of a school shooting takes place at Opportunity High School in Alabama, but it could be Any Town, USA.  It's the start of a new semester, and the principal gives a speech in the auditorium to start the year off.  Suddenly the doors are locked, everyone is trapped inside, and a student begins shooting.   The story is told from the perspective of four students, over the span of one hour, and also includes texts, tweet, and emails.  All four of the main characters knew the shooter well, but somehow no one knew that he was troubled enough to harm others.   THOUGHTS: A contemporary, quick read, I was glad to see students of different ethnic backgrounds, social status, and sexual orientation represented.  The characters were, however, not developed in a deep way, and seemed very easily placed into role of "victim" or "villain".  
Realistic Fiction      Rachel Gutzler, Wilson High School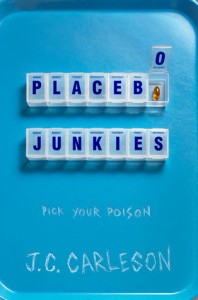 Carleson, J.C.. Placebo Junkie. New York: Alfred A. Knopf, 2015. 978-0-553-49724-3. 298 p. $17.99. Gr. 10 & up.
Audie's a professional human guinea pig.  She "volunteers" for as many clinical trials as she can to make as much money as she can: the more gruesome, the better, because that means more cash.  She doesn't like the pain, but she doesn't really have a choice. She has to pay for food and rent somehow because her parents are both long gone; not that they were much help when they were present.  Plus, she's saving up for the vacation of a lifetime with her dreamy boyfriend Dylan, who is running out of time due to his rapidly spreading cancer.  But, after so many medical tests and treatments, Audie's sense of reality becomes hazy.  Is it just the side effects of the drugs, or is it something more?  THOUGHTS:  Pair with other books that delve into medical ethics such as the Unwind series by Neal Shusterman or stories about psychiatric facilities such as It's Kind of a Funny Story by Ned Vizzini.  Some of the descriptions of the tests and subjects are downright disgusting, so this isn't for the squeamish.  Multiple twists and turns makes the plot hard to follow at times, but readers are likely to be caught up in the drama regardless.  The prolific use of drugs and alcohol, casual treatment of sex, and copious profanity is essential for the development of the characters and setting, but reserve this for an older teen audience.
Realistic Fiction; Mental Disease     Kristen Rowe, Plum Senior High School