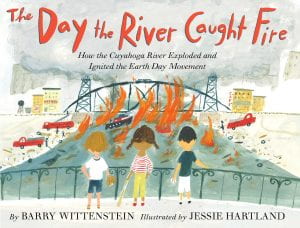 Wittenstein, Barry. The Day the River Caught Fire: How the Cuyahoga River Exploded and Ignited the Earth Day Movement. Simon & Schuster Books for Young Readers, 2023.  978-1-534-48083-4. Unpaged. $18.99. Grades 2-3.
This nonfiction picture book explores environmental activism in its historic account of  Cleveland's Cuyahoga River fire in 1969. In the 19th century, the Industrial Revolution led to the building of many factories along the banks of American rivers, and the waste they produced was dumped into these same rivers. In Ohio, no one seemed to care that the once beautiful pristine Cuyahoga River, which supported wildlife, was now contaminated with oil, chemicals, and other toxic materials. One hot summer day in 1969, a train was traveling on a bridge that crossed the waterway. Sparks from the train fell into the river and instead of  fizzing out, they ignited the slimy surface causing an explosion and fire.  It was quickly put out, but surprisingly this was not the first time the Cuyahoga caught fire. The mayor of Cleveland, Carl Stokes, was determined to clear up the pollution and traveled to Washington, DC to testify before Congress. After listening to him and others, Congress passed the Clean Air and Water Act. One year later, on April 22, 1970, Earth Day was celebrated for the first time. People all over the world began to recognize the importance of taking care of our planet. In the back matter, there is a photo of the 1952 fire and an author's note on the environment, encouraging young people to get involved. The illustrations by Hartland are done in gouache in a folk art style. They are drawn on a small scale, yet there is a lot of action on each page.
THOUGHTS: Students will enjoy examining the images for the quirky details. This picture book is a great choice for Earth Day storytimes, particularly since the story takes place in a neighboring state. A worthwhile purchase for elementary libraries, especially those needing to refresh their Earth Day collection.
363.7 Environmental Problems