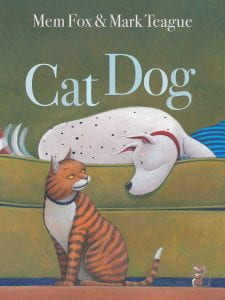 Fox, Mem and Mark Teague. Cat Dog. Beach Lane Books, 2021. 978-1-416-98688-1. Unpaged. $17.99. Grades PreK-1.
A dog is taking a nap on the couch. A cat is chasing a mouse. The cat wants the dog's help, but he is asleep. The mouse gets away from the cat. The dog finally wakes up. The mouse comes out of his hole, and ….
THOUGHTS: The story ends there with the reader trying to figure out what happened between the cat, the dog, and the mouse. This is a beautifully illustrated story, simple in words and color that connects the reader directly to the story by asking questions. The interactive text makes the reader another character in the room with the dog, the cat, and the mouse.  This is a great story to teach story sequencing and predictions. It's also a lot of fun for read aloud.
Picture Book        Erin Bechdel, Beaver Area SD