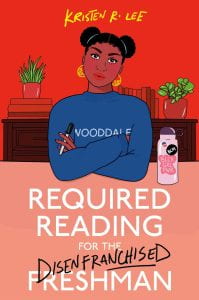 Lee, Kristen R. Required Reading for the Disenfranchised Freshman. Crown, 2022. 978-0-593-30915-5. $18.99. 326 p. Grades 9-12.
Savannah Howard is the golden girl of her poor Memphis neighborhood. Through hard work and focus, she earned a full scholarship to Wooddale, a prestigious Ivy League college. As one of the few Black students on campus, she makes friends quickly with upperclass students Natasha (Tasha) Carmichael, a light-skinned, well to do fashionista and aspiring lawyer; and Benjamin (Benji) Harrington, a local wealthy "high yellow" young man. Benji is a childhood friend of fellow student, Lucas Cunningham, a walking epitome of white privilege. One of the first incidents on campus Savannah witnesses is the vandalism of a statue of the only African American past presidents of the college. The non reaction of the university leaders to the blatant act of racism motivates Savannah to put in motion a campaign on social media, the school newspaper, and student forums to bring down the instigator and perpetrator of this racist behavior, Lucas Cunningham. Though she enlists the support of one of her African American professors as well as Tasha and Benji, the daily grind of uncovering the truth, being harassed – and even assaulted – by Lucas and his crew, and being snubbed by other classmates is exhausting. She grapples with Benji's romantic attentions and his sometimes ambivalent actions toward her nemesis and, perhaps more importantly, with her decision to go to a predominantly white institution. The novel by Kristen R. Lee spans Savannah's freshman year recounted with her own authentic voice. After she gives an interview on her professor's podcast relating the injustices prevalent on campus and accusing the Cunninghams of manipulating the college admission process, she moves off campus to a toney neighborhood to board with the elderly widow, Mrs. Flowers, a self made entrepreneur. Lured back by students from a historically Black college to lead a peaceful protest, Savannah comes full circle, confident that she has stood for what is important and acknowledged by the university's African American woman president. Her goal being reached, Savannah makes a critical decision for her future.
THOUGHTS: This novel takes on white privilege, racism, and microaggressions with which students of color can identify and white students can gain perspective. Author Kristen R. Lee has created a strong, female character who speaks her mind because she sees no alternative. She is ambitious and savvy, yet vulnerable and often scared. Her friends and the people who support her are all African American, but it is a small circle. The white students she forms acquaintances with turn out to be druggies, self-serving, deceitful, or racist (or any combination of those negative qualities). Save for Dr. Santos (the African American professor), the college's administrators are weak, not enough, or oblivious. At the end of the book, Savannah gets called to Wooddale College president's Architectural Digest-worthy home. The president is a Black woman; she informs Savannah she will be honored, and all the racist and unjust acts that happened during the year will be properly addressed. Savannah asks why the president didn't come out earlier and confides her desire to leave Wooddale to attend a historically Black college. The president tells her that she has had to make some concessions to achieve what she has. That answer falls flat with the idealistic Savannah. Reading this book as a white person is uncomfortable–not a bad thing. To quote an old phrase, Lee "tells it like it is," a truth to be embraced by every reader.
Realistic Fiction          Bernadette Cooke School District of Philadelphia