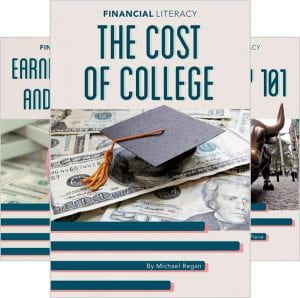 Financial Literacy. Essential Library, 2020. $26.00 ea. $156.00 set of 6. 112 p. Grades 7-12.

Burling, Alexis. Managing Debt. 978-1-532-11914-9.
Donohue, Moira Rose. Making Smart Money Choices. 978-1-532-11913-2.
Edwards, Sue Bradford. Earning, Saving, and Investing. 978-1-532-11911-8.
Hulick, Kathryn. Protecting Financial Data. 978-1-532-11915-6.
LaPierre, Yvette. Economy 101. 978-1-532-11912-5.
Regan, Michael. The Cost of College. 978-1-532-11910-1.
Financial literacy is an area of a student's education that may be heavily influenced by one's upbringing and socioeconomic status. ABDO's Financial Literacy series attempts to help libraries level the playing field by giving ALL students access to valuable information. This reviewer had the opportunity to read The Cost of College. With eight chapters ranging from Where to start? to What if I change My Mind? this title covers many aspects of what students should know before going to college. Each chapter has clear headings, interesting graphics and text highlights, and student worksheets. The book concludes with key takeaways, a glossary, additional resources, source notes, and an index.
THOUGHTS: This series is a good addition to enhance secondary library collections seeking to refresh their financial literacy offerings.
300s Business & Finance          Maryalice Bond, South Middleton SD