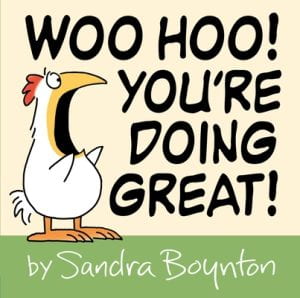 Boynton, Sandra. Woo Hoo! You're Doing Great! Little, Brown and Company, 2023. 978-0-316-48679-8. Unpaged. $17.99.  Grades K-3.
Woo Hoo! You're Doing Great! is a motivational book that features a chicken who follows you and screams about how you are doing great at whatever you are trying to do. The book starts with asking if you have ever felt low or down? Maybe what you need is a chicken to wave and cheer. As the book goes on, the chicken cheers for multiple animals until finally they cheer for a sleeping bear which does not go well. The chicken has made a mistake and learns that everyone makes mistakes. A mouse steps in and teaches the reader what the best woohoo is that you can do.
THOUGHTS: This is such a fun book to read aloud and will be a great addition to any elementary collection. This book would also make a great read aloud for any elementary guidance counselor lessons.
Picture Book