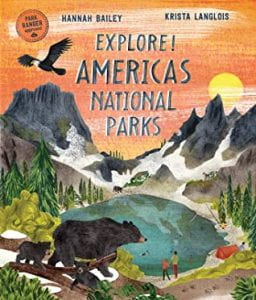 Langlois, Krista. Explore! America's National Parks. Kane Miller, 2021. 978-1-684-64193-2. 96 p. $18.99. Grades 3-6. 
It's time for a trip – a trip to America's amazing national parks! This title takes readers around the United States to explore 61 parks. Parks are profiled by geographic region, and readers will learn about not to be missed landmarks as well as recommended activities. Selected flora and fauna readers should keep an eye out for plants that are also spotlighted. Recommended camping and hiking spots are identified as well as locations to take the perfect park photo. Environmental issues facing parks are also highlighted, along with suggestions of what readers can do to help protect and care for parks. The text is accompanied by Hannah Bailey's beautiful illustrations, which are created with stencil, ink, and digitally enhanced/arranged.
THOUGHTS: A great resource for research projects on national parks or the armchair traveler, this title is deserving of a spot on elementary an/or middle school shelves. The author consulted with park rangers and it is clearly evident in the wide variety of suggested park activities and park spots not to be missed.
917 National Parks          Elizabeth Henry, Lampeter-Strasburg SD